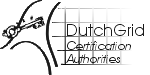 DCA Root Service
DCA Root CA G1
Trusted Certificate Service TCS
Request your instant cert now
Guide and tools
Production CA (MS)
Overview
Manage Your Certificates
(for non-TCS users)
Find a local registrar
Classic interface
Help with your request
Host certificate requests
Submit your request
Download your certificate
Renew your certificate
Request revocation
Reliance information
Policy Statement
Reliance Information
NL e-Infra Zero
(training services)
Documentation
Legacy Cert Request Guide
Change a passphrase
RA OpsGuide
OpenSSL for Windows
eToken Guide
Links
EUGridPMA
IGTF
---
Privacy Policy
As a relying party, you should install the DutchGrid CA root certificates in your local trusted certificate store. The way to do this depends on your application software. The DutchGrid Medium-security CA is an IGTF-accredited Classic Authority, and is installed automatically as part of the IGTF Accredited Installation bundle.
Browser import ("DER" format)

Text display ("PEM" format)

Globus Toolkit 2+

VL-e, LCG, and EGEE managed installations
Is this certificate valid?
To find out if a particular certificate is valid, download the Certificate Revocation List (CRL).